Background
A customer had existing personas, but they and the data they were based on hadn't been updated in 1-2 years. The personas they currently had reflected a legacy system state, not recent years' updates to the system. Nor did they have a process to maintain, or clarity on how to use them in product decisions. As priorities changed, the personas did not. So they weren't helpful for teams to use in framing or decision-making.
My Role
As the UX Researcher responsible for refactoring the personas, I identified an opportunity to operationalize them. The customer's organization was shifting to a product team structure, which aligned work demand to product areas of the system. Advocating for personas, the customer's leadership saw business value in updating them in time to support the new team's early work and responded well to the proposed project.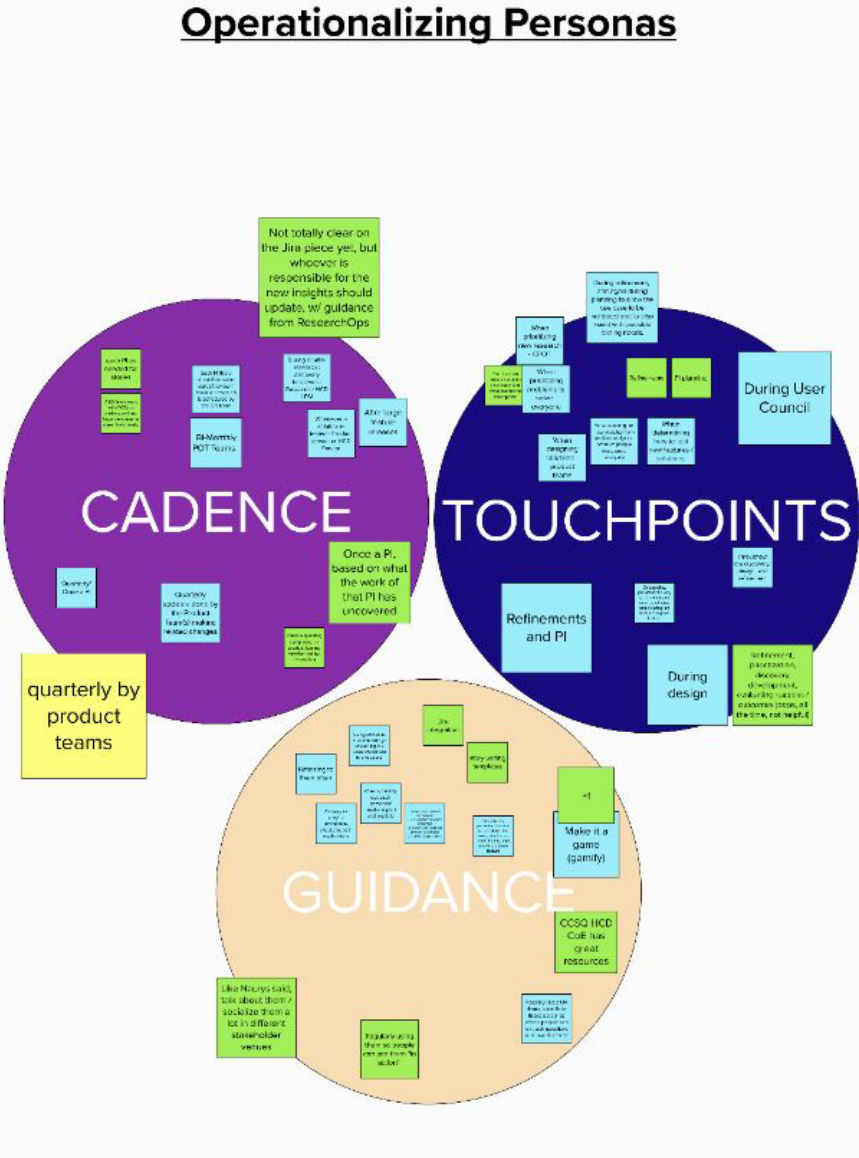 Methods
I proposed a workshop to explore how the organization and broader audience would like to maintain and use newly refactored personas going forward. It allowed the key decision-makers and product folk to come together, provide feedback, and get excited about the personas.
We had a remote workshop to define the cadence, touchpoints, and materials to support and maintain the refactored personas I created. A total of 22 stakeholders, all at the lead and manager level, showed up for the workshop. As stakeholders joined the meeting, I started to facilitate by sharing my screen and reading over the objectives and agenda. The agenda was structured to to spend 10 minutes on each of the three areas we wanted to define, starting with 2 minutes in a remote collaboration tool to leave feedback on sticky notes so that everyone had a chance to be heard and the remaining 8 minutes as an open discussion. There was a lot of engagement and sticky notes left on each area. The follow-up discussions dug even deeper into the rationale behind some of the feedback that was mentioned and cleared up any questions either I or other participants had.

Challenges
Coordinating a 30 minute with multiple stakeholders presented a huge time constraint. It required a ton of pre-planning and prioritizing with limited time. Thinking through how I could best stick to the agenda because that would be the key to a successful meeting, I created a FAQ section in the tool to answer anticipated questions without directly speaking to them. Then I strategized which stakeholders to invite. I started by identifying key decision makers with strong personalities and communication skills that should be at the workshop and emailed them to give advance notice of the upcoming workshop. Then I identified secondary stakeholders to invite to the workshop. After getting everyone's best schedule, I coordinated the workshop, while letting those who couldn't attend know that it would be recorded so they could rewatch it.
Outcomes
The data gathered from the workshop allowed me to create a documented strategy for persona maintenance & use. Many stakeholders were aligned with the strategy and began using it after I made it accessible. The FAQ guide about personas also gave comfort to future expectations for just about everyone. The newly refactored personas played a pivotal part in helping the team better integrate Human-Centered Design with SAFe Agile. SAFe Agile is an agile framework that gives digital service teams the flexibility of Agile while government organizations provide oversight and planning aligned with waterfall software development methods. My colleague and I wrote a company blog post about how the client modeled integrating Human-Centered Design with SAFe Agile.
The team planned to use personas to help with onboarding and design, agile ceremonies like story refinement, and prioritization. In terms of maintenance, they planned to update the personas once per program increment and on a quarterly cadence.
I summarized the workshop findings into a guide and set up an online tool to make the personas dynamic with validated research data feeding into them. The guide showed the team how personas could be used at various stages of the software development life cycle and with decision-making. The dynamic personas helped the team understand their users, gain confidence about user research as a practice and trust the relevant data within the personas for developing future-state features.
Impact
In 90% of research, design and leadership meetings following the workshop, personas were mentioned. They were getting socialized a lot, which was great for high-level visibility. Leadership even dedicated time to present them during kick-off meetings. The guide proved to be useful and the updated personas were fully operationalized within 2 weeks of the workshop.